So I haven't updated about August at all yet. What I'm gonna do is is I'm going to make 1 picture-post about my beach and NYC vacation and then another picture post about my trip to Cat's! This first one right here is about the beach and NYC, and the pictures are totally sweet. Check 'em out.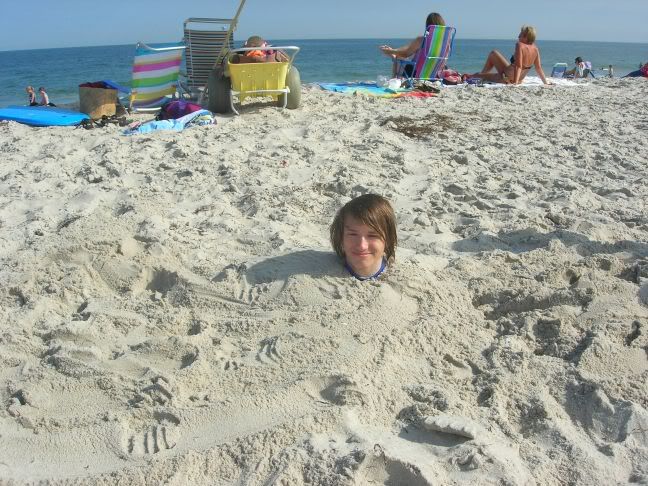 Here begins the almighty photo re-cap of my two week vacation in New Jersey and New York. We were with my mom's friend and her 6 year-old Chinese daughter, which was a blast.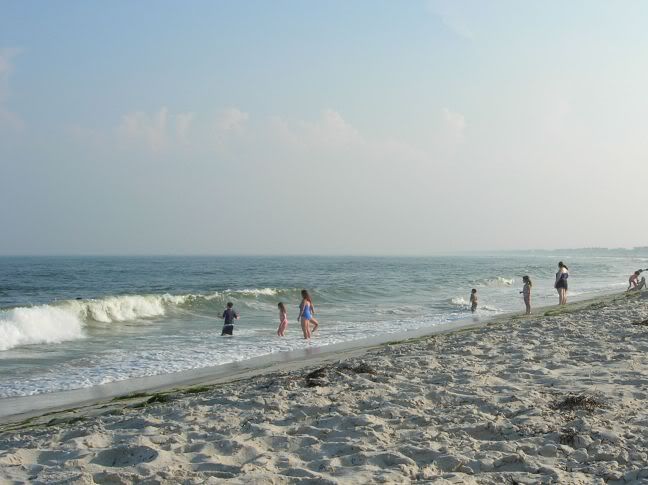 Gotta start off with just a simple picture of the shore. I guess the sun wasn't shining too bright that day. Everyday was pretty much a great beach day, except for my birthday, August 4th. Bummer!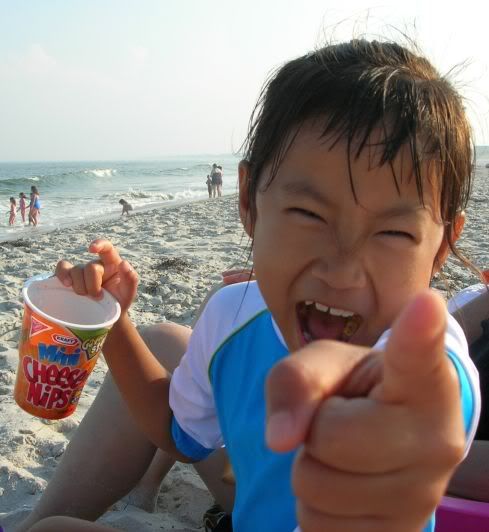 Sadie's pretty awesome. Don't mess with her Cheese Nips.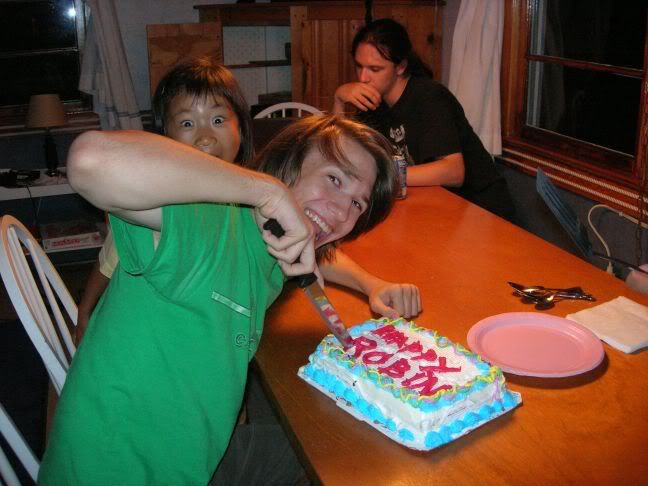 I had a Carvel ice cream cake for my birthday, which is the best way to go. When my mom was writing the words on with icing, the tube was too big, and she couldn't fit the word "birthday" on. Also, check out Sadie's face poking out behind me.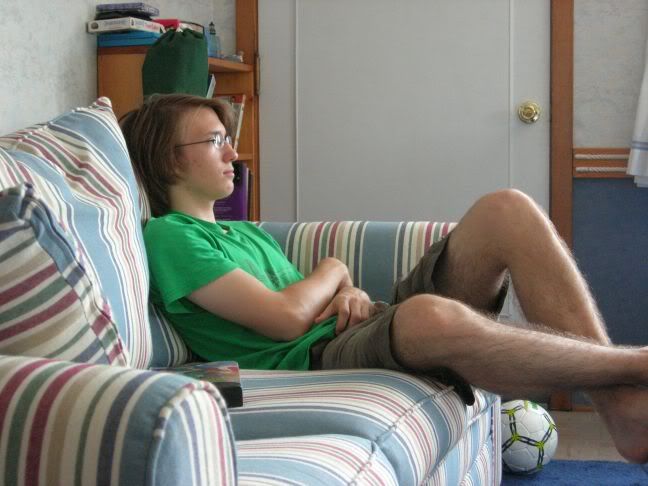 I think this was taken one morning after I had just woken up. I'm obviously thinking about something very deep.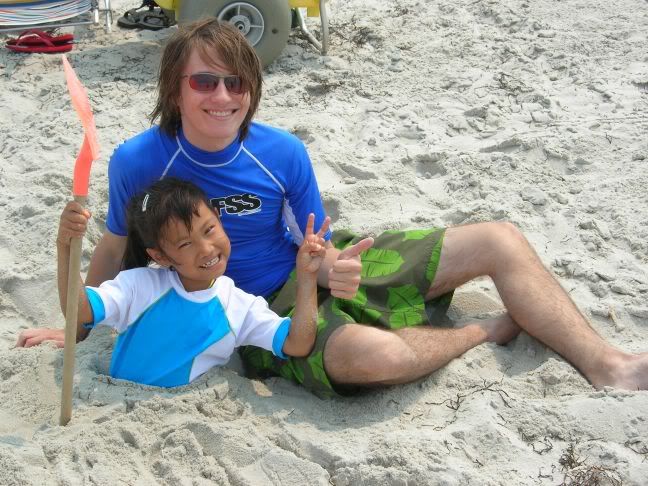 I really dig holes in the sand (aw yeah, sweet pun). Anyways, when I was digging one for myself, Sadie really wanted to be buried first. So I was like "eh, whateva" and buried her up to her waist. It was a good time. Oh and here I am also wearing my new super-hip sunglasses.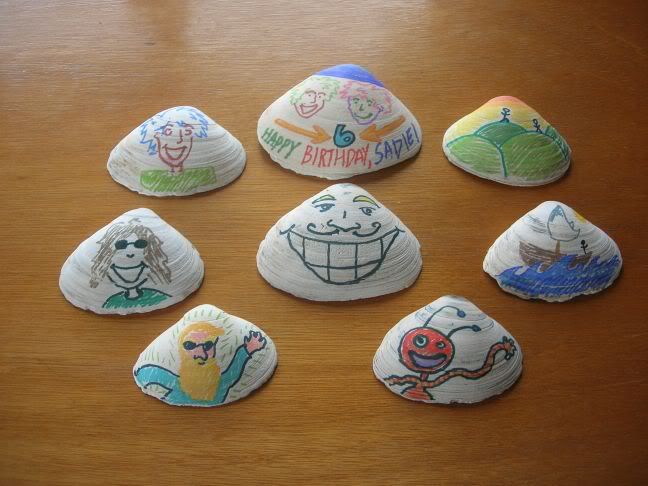 For Sadie's birthday party they were giving out goodie bags. The idea was to put seashells in them, so they asked me to draw kid-friendly cartoons on them. I was happy to oblige. I like the way they turned out, and I think the kids did too.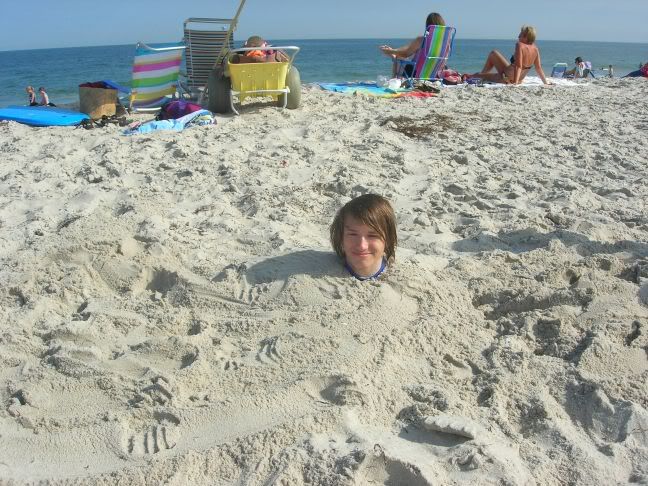 (yeah I'm posting it again, shaddap). So this is when I finally dug myself into the sand. It's a great effect. Sadie and her friends helped bury me. I think it turned out really good.

So that pretty much concludes my week at the beach. Nothing much really went on aside from going to the shore a lot and going in the ocean. It was indeed a good time though.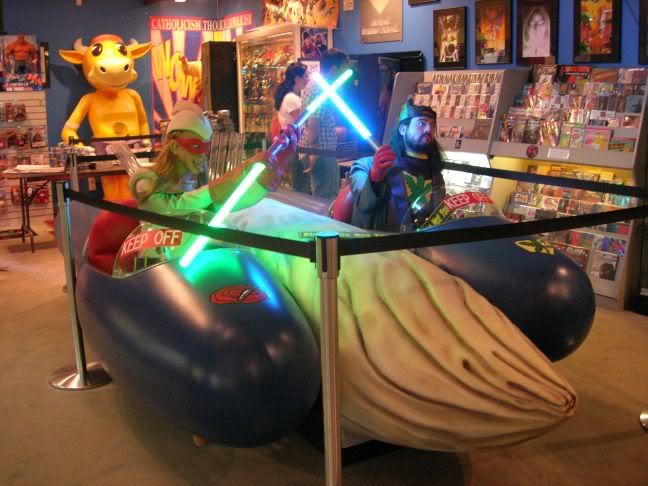 On the way to New York coming from the beach, we always stop in Red Bank, New Jersey to check out Jay and Silent Bob's Secret Stash, which is a pretty rad store. Also, we'd always go to this totally sweet turkey restaurant, which isn't there anymore :'(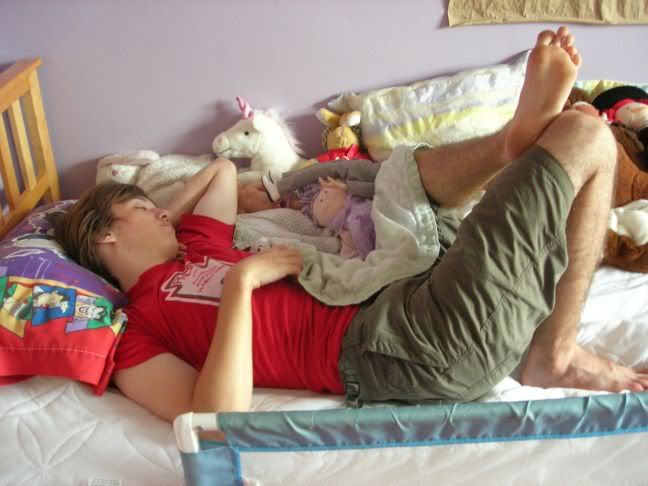 Yeah, I actually sleep like that. It's qutie comfortable. That's Sadie's bed I'm in by the way...I don't really sleep with unicorn dolls. Anwyays, this is the beginning of my New York trip. I only have a few pictures, but sooo much went on.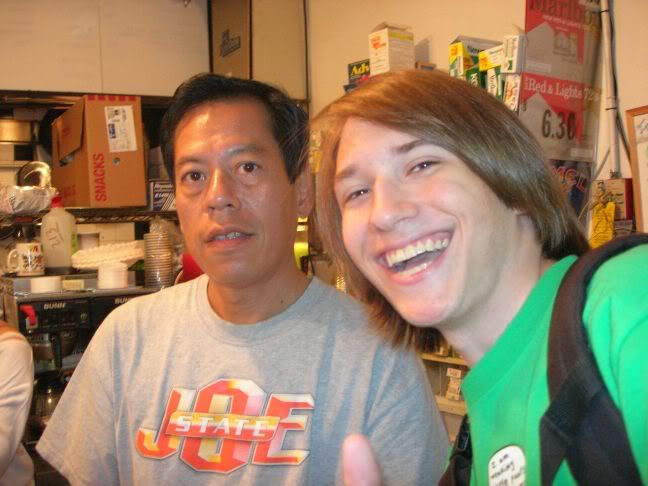 If you've ever seen certain episodes of the Late Show with David Letterman, then you will know that Ruper Jee is an awesome dude! Cat and I and her friend Harry went to his deli on 53rd st. It was great food, but the store was tiny and super crowded. Oh, and that's Rupert's pose. He wasn't unprepared for the picture, he really poses lik that.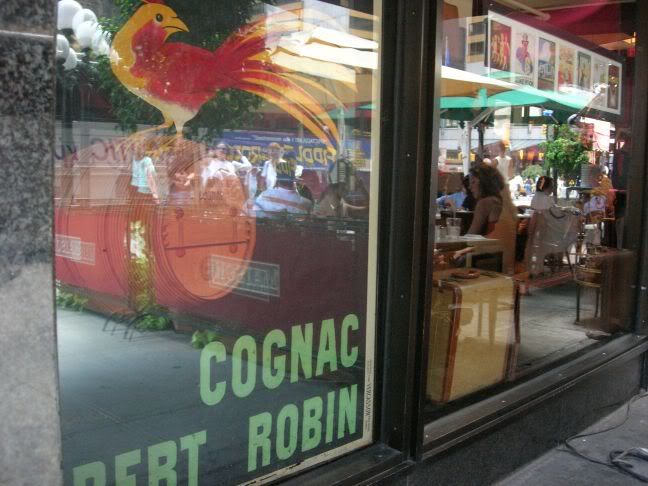 Later on, we had to find a place to eat the food, so we just sat down on the big steps of a building nearby. There was a restaurant attached to it, and this was in the window right next to us! What a sweet name: Cognac Robin.

A lot more went on in New York,too. I saw tons and tons of shows at the awesome Upright Citizens Brigade Theater, many including the very hilarious Seth Morris. On Wednesday Catty came into the city and for the next 3 days we did a ton of stuff.

On Wednesday we went to Midtown Comics, the Virgin Megastore (where we met up with Harry), the Hello Deli, Jim Hanley's Universe, Pearl River Mart (the most awesome Chinese store ever), then chilled out back at the apartment. Later on we went to a UCB show, and then finished the night off with dinner at a tasty Mexican restaurant on 8th avenue. It was a great day.



Harry in the subway.



Me playing with a Predator mask at Jim Hanley's



Me at Pearl River wearing a sweet wooden mask.



Seen on the way to the Mexican place.

On Thursday we went to Central Park. Man, we did so much walking, and it was hot as hell! It was pretty grueling walking so much, but I had a great time. Afterwards we went to the Museum of Modern Art for free, which was totally rad. After that we went home and had Chinese for dinner and watched R. Kelly's masterpiece "Trapped in the Closet." Then we went to three UCB shows that night, and they were all hilarious.



Me standing in front of the Chelsea Hotel, holding Dee Dee Ramone's excellent novel, Chelsea Horror Hotel



A totally kick ass punker jacket I almost bought.



Playing with bubbles in Central Park!

So then on Friday we hung out with Cat's uncle for a while. We went to his studio, then to a great Greek restaurant in the village called Karva's and that was super tasty. Her uncle and I had a sweet conversation about the Ramones. Later on we went to his studio in Soho, which was really fun and he was a really nice and cool dude. Afterwards we went to the Museum of Comic and Cartoon art (also in Soho) and checked out their Will Eisner show, which was really interesting and awesome. Later, we went back to Pearl River, and then into the heart of Chinatown to go to an awesome dollar store and a cool foreign DVD store. Later on, around 8, Catty left from the Port Authority station. Her coming made it such a wonderful vacation.

Thus concludes my vacations! See you again soon in my post about visiting Catty.